7 of London's Most Imaginative & Green Office Developments
From London's first urban farm office development to tallest engineered timber office building – we look at some of the city's most imaginative, sustainable workspaces. They prioritise material reuse, people-first design, functionality and fun.
Plantworks is London's first urban farm office development. Plant your work, harvest your lunch.
SUSTAINABILITY
EPC B, BREEAM Excellent
Redevelopment of historic 1980s mirror workshop
KEY FEATURES
Radical indoor farming scheme with state-of-the art hydroponic technology, including melons, blueberries and passionfruit for workers to harvest and enjoy
People-first design focused on light, spaciousness, and nature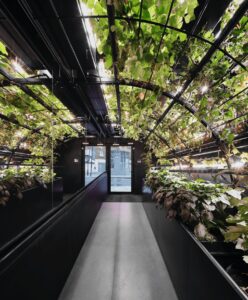 Built on the site of a bookbinder, a jewellery maker, a clockmaker and a metal workshop – inspired by the local history of 'making'. The Bindery is what office space should be.
SUSTAINABILITY
EPC A
Refurbishment of 1930s Art Deco building
KEY FEATURES
High uncluttered ceilings, calming natural palette, and huge windows flood the space with light and views
5 beautifully designed outdoor garden spaces designed by Chelsea Flower Show "Best in Show" landscape designer, Andy Sturgeon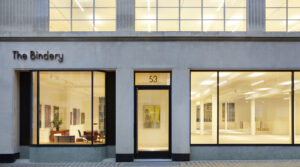 A playful example of post-Olympic East London regeneration. Here East provides a workplace for large and small – tech giants to craftspeople – to work and experiment.
SUSTAINABILITY
EPC B, BREEAM Excellent
Powered by 100% renewable electricity
KEY FEATURES
'The Gantry' – 3-storey external steel frame (former air conditioning units) – now a "cabinet of curiosities for the 21st century" providing space for artist studios
'The Yard' – facilities for outdoor cinema, markets, public events, and retro video-game bar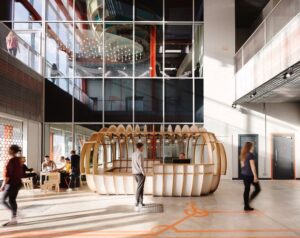 HYLO | Old Street EC1
In London's Silicon roundabout, HYLO melds old and new. An ambitious "cut-and-carve" job – stripping the 16-storey 1960s block back to its concrete skeleton – while adding 13 storeys atop.
SUSTAINABILITY
BREEAM Excellent, WELL Gold, WiredScore Platinum
100% of existing foundations retained
KEY FEATURES
Enhanced ventilation system with high grade filters and CO2 sensors for 100% fresh air with no recirculation
11,000 sq ft of outdoor terraces created from massing cutbacks and a rooftop garden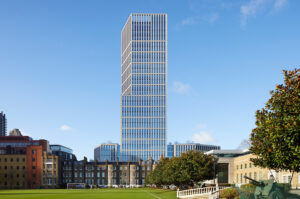 Imposing and historically important, this Grade II listed building has been sensitively redeveloped to meet the demands of today's occupants.
SUSTAINABILITY
EPC A, BREEAM Excellent, WiredScore Platinum
Retained 92% of original structure and 74% of existing double-glazed unitised cladding
KEY FEATURES
Sense of light and spaciousness – double height reception elegantly transformed to reflect Edwardian baroque façade
Informal meeting spaces with oak joinery and soft seating reminiscent of hotel lobby, welcoming visitors and creating calm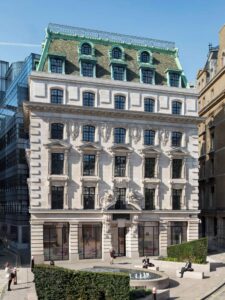 A prominent post-modern building, once so leaky it couldn't be sufficiently pressurised to get a reading. Tired, awkward, unloved – now one of the world's greenest.
SUSTAINABILITY
EPC A, BREEAM Outstanding (96.31%): world record at the time
Winner 2014 BCO Best Recycled/ Refurbished Workplace
KEY FEATURES
Tri-generation cooling, heating and power plant – fuelled by waste vegetable oil collected and locally refined by Olleco
Cellular offices replaced with large, uncluttered floor plates open to the atriums, allowing natural light to flood in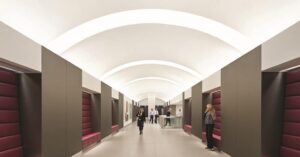 In the midst of messy, difficult Shoreditch – London's tallest engineered timber office building. Made from 1,774 beech, spruce and pine trees. Architecturally, a massive leap in complexity.
SUSTAINABILITY
Hybrid timber structure comprising beech LVL frame and CLT slabs and core. 37% less embodied carbon than comparable concrete structure (only 410 kgCO2e/m2)
Frame designed to be fully demountable so parts can be reused
KEY FEATURES
Vast open-plan spaces with no structural internal partition walls to minimise visual intrusion – layout can be easily adapted
Each floor has its own communal kitchen area and lounge – a warm homely look and feel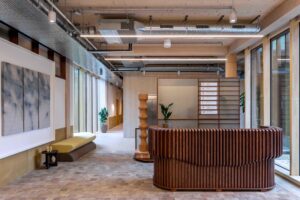 Featured Stories & Insights
Let's Talk
Got a question? Use the form to get in touch.