Centenarian Workspaces: 6 Historic Offices Restored to Splendour
Zac Goodman, CEO, recently shared his insights in a Bloomberg feature: 'When Recycling Comes to the Construction Industry'.
He notes, "'Adaptive re-use' is a phrase often used today as though it were a novel concept. In reality, historic cities like London have been doing this for millennia.
Many of us were taught to 'make do and mend' – ' waste not, want not'. It is this philosophy we must cleverly integrate into development.
Societally and culturally, we are used to living with things that have been reused over long periods. People enjoy the heritage, charm or sustainability of things that are older than them."
In this article, we uncover six historic workspaces – all over 100-years-old – that have been meticulously renovated and restored to splendour.
Each building has a rich history and bright future.
1. OLD SESSIONS HOUSE, Clerkenwell
Built – 1779
Developed by – Sätila Studios, 2021
Originally called Middlesex Sessions House, it was once the biggest and busiest courthouse in England. During its heyday it earned a reputation for harsh sentencing – with 200 convicts transported to Australia in one year.
Today, this Grade II* Listed Georgian building has been luxuriously revived. It houses a 35,000 sq ft members' workclub, restaurant, and private roof terrace with swimming pool. The design concept is centred on "natural decay, contemporary classic and cosy".
The 20m-tall, 18th century glass atrium was painstakingly restored. Surviving the Blitz and various building alterations – it is one of the largest surviving examples of its kind in England.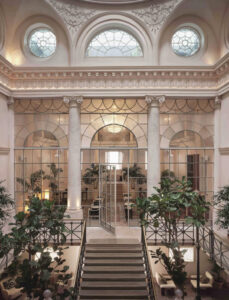 2. THE LOOM, Whitechapel
Built – 1889
Developed by – Helical, 2016
Loom House was a Victorian wool storage warehouse built for Browne & Eagle Limited. In 1889, wool was the chief import into the Port of London. From the Merino sheep of Australia, it travelled from Melbourne and Sydney by fast sailing clippers.
Today, this historic building has been reimagined for a community of creative occupiers. It provides 110,000 sq ft of modern workspace, meeting areas, and sustainable Colombian Coffee Roasters, Hermanos.
The workspace is characterised by abundant natural light, raw brickwork, exposed trusses and columns, and wool upholstery. Bespoke woven metal gates frame the entrance.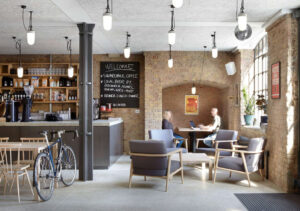 3. OMBÚ, Madrid
Built – 1905
Developed by – Acciona, 2022
A former derelict warehouse built by famous architect Luis de Landecho, designer of Madrid's Ritz Hotel. It is the only surviving relic of the Industrial Gasification Society – once supplying energy to surrounding areas.
Ombú transforms industrial wasteland into impeccably designed workspace with a new city garden.
The historic building envelop was retained, conserving over 10,000 tonnes of original brick. A new lightweight structure made from sustainably sourced local chestnut wood was inserted inside. The result: an expansive, open-plan workspace with maximum flexibility and abundant charm.
A new courtyard allows people to comfortably work outdoors – connecting to a 130,000 sq ft park with informal meeting areas.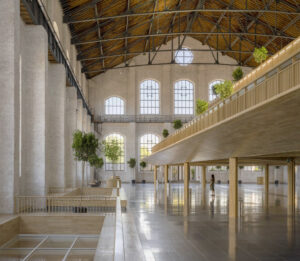 4. SOMERSET HOUSE STUDIOS, Westminster
Built – 1775
Developed by – Somerset House Trust, 2021
Somerset House was the first purpose-built office complex in the UK. It brought a number of government departments together under one roof – radical for the time – encouraging cross-department conversations. Somerset House Studios was the former Inland Revenue office.
Today, Somerset House is the biggest concentration of creative industries in central London; the Studios are its engine room, providing affordable workspaces for artists.
The as-found building fabric provided first resource for materials. A highly detailed inventory was drawn and used to plan the restoration and reuse strategy.
The project was praised by the Mayor of London as a model of how affordable workspace can be made available in central London, developed for under £1,200/m2.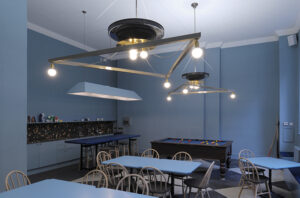 5. 30 LIGHTERMAN, King's Cross
Built – 1905
Developed by – TSP, 2020
Formerly Lighterman House, this warehouse takes its name from the lightermen. The workers who once navigated the flat-bottom barges – known as lighters – along the Thames.
A tight community who lived, worked and ate together, they were fastidious about their craft. Being a lighterman was a well-guarded position, with a stringent hierarchy you had to work your way up.
Today, this 14,500 sq ft Edwardian warehouse has been reinvented for a modern workforce. While some of the lighterman footprints still are visible on the original, buffed concrete floors.
The redevelopment boasts exceptional sustainability credentials, tech-enabled design, and dynamic floorplate options – specifically catering to underserved SMEs.
30 Lighterman garnered three awards, including Estates Gazette Best Workplace 2022.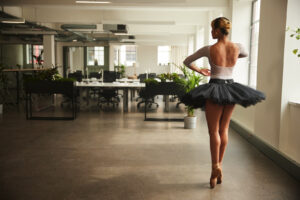 6. PENNINGTON STREET WAREHOUSE, Wapping
Built – 1804
Developed by – St George, 2019
The London Docks were once the city's gateway to the world. Following their closure in the 1980s, they became largely derelict. The Pennington Street Warehouse – once used for storing rum and spices – is the only substantial building to survive from the original docks.
Today, the warehouse has been reimagined as an eclectic mix of retail, restaurants, galleries and offices.
A series of shared informal spaces, meeting rooms, coworking booths and intimate client areas, deliver diverse work zones.
Transformation of the vaults has been achieved by removing four stone columns and a section of vaulted arches to create a 14m high atrium. This connects the three levels and brings natural light flooding into the vaults for the first time.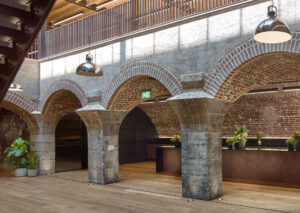 In today's dynamic industry, the old philosophy of 'make do and mend' plays a crucial role in savvy development.
By building with longevity in mind, we save money, and we create a better product. People increasingly favour and value things that are built to last.
At TSP, this is the approach we take when designing and developing our real estate.
Coming soon: Our latest development, 60 Ironmonger, an Edwardian warehouse restored and rethroned.
Featured Stories & Insights
Let's Talk
Got a question? Use the form to get in touch.