Cranes Galore: An Update on the London Office Market in May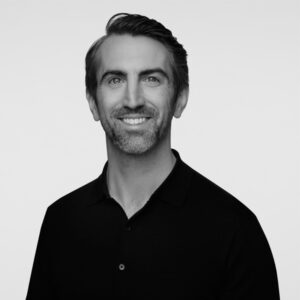 Today, there are more cranes in London than at any time in the last 10 years.
According to Deloitte, this is because investors are scared of the MEES regs and are refurbishing before it's too late. There is a lot of repositioning going on. And unusually, more in the West End than in the City.
Looking forward, there will be a glut of supply later this year before constraining into '24 and '25.
Values are falling but the best Prop Co's can't deliver office space fast enough to meet demand…
They all suffered big write-downs in the Q1 valuations and there is talk of a further 10-15% in June.
At the same time, companies like Helical, Derwent, and GPE (who have great office stock) are printing leases like McDonalds sells fries. All this is despite a c.8% vacancy rate in London:
Derwent's leasing activity in Q1 2023 totalled £17.1m
GPE reported a record £55.5m of new leases signed in 2022-23
Land Securities' West End offices are 'effectively full' at 99.5% occupancy
Helical added £5.4m in rent at a 7% above ERV
They all want to buy more buildings to make the most of 'unbelievable' value.
But is anyone willing to sell at today's prices?
For all the talk of buying, the investment market is still quiet.
Savills compared investment figures to the GFC to show 'it's not that bad'. Which is true for total investment…but the office investment numbers are close to historic lows: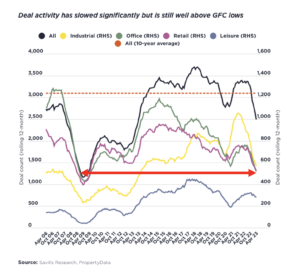 The problem is that there aren't enough motivated sellers in the best submarkets i.e., a passive investor, who used to 'let and forget', about to get hit by MEES regs, facing a refi. There are only so many of these people out there.
If you're an indifferent owner with decent kit – why would you sell? The market provides no external motivation right now.
Meanwhile, in the occupier world…
Earlier in May I joined a team visiting one of the estates we manage to deliver quarterly tenant gifts.
It gave me a chance to speak with businesses and understand how they're doing. These are 'old school' Shoreditch tenants like design agencies, ecommerce distribution, a coffee roaster, plus offices of course.
Some common themes:
Business is good
Planning to expand
Planning to invest
Getting people back into the office more often
Maybe it was just this site, but I didn't get any bad vibes, and no one seemed worried about an impending recession, financial crisis or any other major problem.
Another client that I met also wants people back in the office 3x per week
They're a non-profit in the education sector: usually these organisations are very pro-remote. However, their quota of office days is now going up to help collaboration. A lot of private companies have already worked this out, but it was encouraging – and a bit weird – to hear it from a different sector.
Perhaps another good sign for offices in the long term.
I still can't predict how much space a tenant needs though…
This reaffirmed that you can't predict how much space a tenant needs just from the industry that they're in anymore.
At the same time, our Advisory team is helping a different client downsize from 5,000 sq. ft. into 1,500 sq. ft.
I find that the leader's personality is more important:
How old are they?
Are they an extrovert?
Are they driven by profit?
How forthright are they?
An influential leader who wants people back in the office will make it happen.
The good news is that everyone wants to make their office great and seems willing to spend money – whether they're there 2 days or 5.
To summarise:
Vacancy rate is c.8% but decreasing
Glut of supply predicted this year before tapering in 2024-25
Back to the office gaining speed
Still an office investment bear market
–
Resources:
Deloitte London Office Crane Survey Summer 2023
GPE Doubles Rent Growth Guidance for Prime London Offices After Record Leasing Year (paywalled)
Derwent London First Quarter Business Update
Land Securities Results for the year ended 31st Match 2023
BNP Paribas Real Estate At A Glance Q1 2023 Central London Offices Update
Savills Market in Minutes: UK Commercial
Secondary Offices Values 'yet to Hit Bottom', EG, 27th May 2023
Featured Stories & Insights
Let's Talk
Got a question? Use the form to get in touch.