Estates Gazette Feature: "Developers must be allowed to innovate"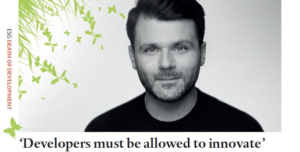 As featured in the Estates Gazette article, "ESG: Death of Development", Summer 2023 Ed., by Julia Cahill.
–
You might expect someone who makes a living out of refurbishing old buildings to see limited need – or justification – for building new ones. Not so Zac Goodman, owner of office investor and developer TSP.
He can be as effusive about retaining the Victorian windows of a former biscuit-factory-turned-office in London as he is about the new energy-efficient developments going up in the Middle East.
He is fascinated by the "footprints" left by the industrial machinery on the newly polished concrete floors of a 100-year-old warehouse in King's Cross, N1, now the Thirty Lighterman office building – a project which diverted 100% of waste from landfill (EPC B, BREEAM Excellent, carbon-neutral). But he is also fascinated by innovations in low-carbon concrete to construct the buildings of the future.
He calls his approach to old buildings "rethroning great dames" and he does it because he spotted – earlier than many – that sustainability was a "decision vector" for a growing number of SME customers. Customers who at the same time were becoming more empowered in the landlord-tenant relationship because lease lengths were shortening.
Opportunity for growth
"We have made sustainability our own rules of the game and our customers love it. It really sells to them. We have noticed that more and more people who are coming into our portfolio will say to us, "This is great because we have a sustainability policy and a commitment. It's part of our business now and this complies with that. And I can only see more businesses doing that in the future."
His focus has been on pre-war buildings, but he recently bought a 2003 London office with a plan to improve its EPC rating from B to A, and possibly A+. "Part of the reason we bought it is because it's so well built and so well designed," he says.
Yet despite the growth in opportunities like this – as prices adjust further for unloved 20,000-40,000 sq ft offices, hastened by the spectre of incoming MEES regulations and 2030 carbon net zero goals – Goodman is categorically in favour of building new buildings.
"We should always build new buildings. We should keep doing it," Goodman says. He sees the global appeal of London as inseparable from its architectural diversity, the new rubbing up against the old.
Whether the environmental impact of knocking down the old to replace with the new means we should stop doing it is a "complicated and nuanced question", he says. It doesn't help that real estate has come "relatively late to the sustainability party".
"There are areas where we are probably trying to over-compensate. There are areas where decisions are probably being made far too quickly," he says.
Part of the problem is that sustainability is such a politically loaded issue. It has become a battleground between those who are trying to take an "altruistic, moral approach" versus the commercial landlords, he says.
"But actually, given the chance, most commercial owners want to make an impact," Goodman believes. "They know that sustainability is good not only for business, but good for the city. They have a vested interest in communities thriving."
He is concerned that progress is being stalled because the debate is mired in these tribal positions.
A more sophisticated approach is needed to address the problems together.
The debate is also missing a proper understanding of the time horizon we are judging planning decisions by, he says. In other words, we know that when we put our minds to it, we can build incredible buildings that will last hundreds of years. It follows that pulling down old ones that are full of asbestos, no longer fit for purpose and of no benefit to the community to replace them with buildings that can be repurposed and adaptively reused over the next 200 years is the right thing to do.
It is also a crucial way for the market to foster innovation, he says.
Creating a rule book
"If you stop allowing people to build new buildings, then you rob the private sector of the opportunity to innovate its way out of the problem of how carbon-intensive it is to build new buildings," Goodman argues.
"We are going to have to allow the free market to help find the solutions to some of these pressing problems."
But to do that, more leadership is needed from government, he says. The new EPC regulations are the clearest indication yet of the direction of travel, but the industry is lacking a "rule book" when it comes to sustainability in development. "A lot of local authorities say that sustainability must be the golden thread that runs through every application but what does that mean? It is very difficult to satisfy something that is so vague.
"Developers want the rules, and the rules right now are like trains moving across the track."
Featured Stories & Insights
Let's Talk
Got a question? Use the form to get in touch.