IN CONVERSATION: Zac Goodman With Gerald Kaye, CEO at Helical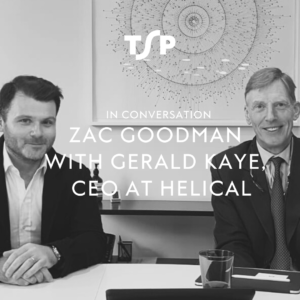 "It's still a business with imperfect knowledge"
Approaching 30 years at Helical Plc, Gerald Kaye is CEO of the London focused property investment and development company. Helical is leading the way in shaping sustainable, inspiring workplaces which are technologically smart, amenity-rich, and promote employee wellbeing.
Zac Goodman sat down with Gerald to hear his candid views on where the industry is at.
_
BEGINNINGS
ZG: How did you get into the real estate industry?
GK: I studied Estate Management at Reading University in the 70s. I thought I wanted to be a Land Agent because I loved being in the countryside – but realised there was more opportunity in commercial than rural real estate.
My first job was at Knight Frank on their Graduate Scheme. I had 1 interview for 45 minutes. That was it. Work experience was far less advanced than today. I have very happy memories of where it started.
A LITTLE MORE ANODYNE
ZG: There's a huge amount of change at the moment. It feels like there's revolutions going on in every part of life. What's the fundamental thing you've seen change in the industry?
GK: So many things have changed in terms of communications. It's become far more global, internationalised.
"It was rare to have overseas buyers when I started."
And there were many more quoted property companies and many more firms of agents.
ZG: That's interesting. So the number of quoted property companies has actually shrunk over time. In the same way the number of agents has shrunk. Wow – I'd never thought of it like that – you would've thought it's gone the opposite way with the advent of free markets.
GK: We've had the hoovering up of firms – by CBRE, JLL, Cushmans, DTZ.
ZG: Is it a good thing or a bad thing that kind of consolidation?
GK: Parts are good, parts are bad. In a sense it's less personal, but you're still dealing with people.
ZG: You could say it's just become a little more anodyne over the years. There's less characters knocking around, less room for personas in the corporate world.
GK: Yes, there's greater conformity required probably.
A BUSINESS WITH IMPERFECT KNOWLEDGE
ZG: And what is exactly the same as 50 years ago? What still rings true?
GK: It's still a personal business. It's still a business with imperfect knowledge.
ZG: I love that. That's exactly what it is. Even with all the computers, databases – they're never up to date. And with overseas buyers, we don't have a good knowledge of who owns what and where and how.
GK: A lot of the knowledge is held personally.
ZG: There's the big question of the value that agents bring within the business – and actually what you just said is the ultimate justification for their value. Their tangible, historical, legacy knowledge of certain buildings and tenants: they're essentially information brokers.
GK: Exactly.
"The phrase I absolutely hate is when people say, 'this is a unique property' – every property is unique. And then they say, 'very unique'."
There's a lot of personal judgement required – you can't get those answers out of a computer – everyone will have a different opinion.
ZG: We call that the "emotional stretch" pricing. There's the fair value that we would underwrite something to, but if the right person comes along and loves it, they'll pay more. That's the lovely thing about real estate.
MUTTON DRESSED AS FINEST LAMB
ZG: You've had an article out recently where you referenced "mutton dressed as finest lamb".
GK: Yes – we've seen bifurcation in the tenant market for a number of years – but there wasn't any great bifurcation in the investment market. Now we're seeing both. The buildings tenants don't want are the buildings investors don't want. There's got to be a huge amount of CapEx to bring them up to the right standard.
INTEREST RATE SHOCK AND AWE
ZG: Half of our industry – if not more – are under 35 and have never seen interest rates at these levels. Although everyone is in shock and awe, they're at fairly moderate levels compared to the 30 years that led up to the 2008 crash.
GK: Yes –
"The average base rate in the 1980s was over 11%!"
ZG: A lot of younger people in the industry operate under the assumption that commercial property yields directly correlate to interest rates. So they're doing the maths of pro rating things. If interest rates go to 5% – put the illiquid asset risk on that – and therefore all commercial property yields are 7%.
In the 80s, when interest rates were 15%, there were still commercial assets that sold for 5%. What's your take on that? How were you discerning as an investor 30 years ago when interest rates were higher?
GK: Well, if you could just leave it in the bank and get whatever you could on your deposit – then you got hit with inflation – you got growth in the equity market. Back then, property was more like an equity than a bond – so you beat inflation – that was the point of it. At 5% you could still beat inflation because you had rental growth and capital values increasing.
ZG: So low interest rates made a lot of investors look at property more as an equity than a bond?
GK: Right – the equity market over 100 years has outperformed the bond market.
ZG: Do you feel confident that property will continue to outperform inflation as it has done historically?
GK: The right property will – that's the point. It used to be all real estate; it was a far less defined market. Now, the poorer quality offices will no longer be desirable. That's the issue. 20 years ago if you had a second-hand building, you could tidy it up, put down a new carpet, paint the walls, somebody would take it and pay rent. Now, I'm not sure they will.
ZG: We think it looks similar to the hotel market 10-15 years ago – the middle market was eviscerated. It was either Travelodge or The Dorchester. That's what we think happens with commercial offices.
GK: I think that's right.
"There'll be more standardisation at the lower end – but it will all be sustainable."
ZG: 100%
THE OPPORTUNITY AHEAD
ZG: Where do you see opportunity coming in real estate assets?
GK: What I think is interesting is the push and the pull to move office. The pull: we want a newly refurbished office because the way we work has changed – it's the end of the desk farms. The push: older buildings are not sustainable, and everyone has their own net zero carbon mission, pushing them out of these older buildings. That's the difference today.
ZG: So the investable pool of assets moving forward is becoming smaller and therefore should become more valuable.
GK: Absolutely. That is the bifurcation of the investment market. The few that will come on the market will be bid up.
ZG: And the assets that people don't want – either it has to be retrofit first or change of use. A lot of people are talking again about office to residential: do you see this becoming a theme with stranded stock?
GK: Will it work for resi? That's the trouble, probably not. If it works for resi then it probably works as a refurbished office building.
ZG: If you have that view, then the attitude and culture of planning could actually be a cause for concern, as you mention in your article. London could get jammed up with redundant stock that no one can do anything with.
GK: Yes, a significant amount. We're refurbishing a building at 100 New Bridge Street which was finished in 1992 and that will be fine. And at The Bower, on Old Street, we kept the cladding from the early 60s. 20 years ago people would say it looks awful, but actually it has a lot of character – so we kept it. But some buildings just won't work – they need to be demolished and started again. You have to move forward. Unless you have economic growth, nothing will get better.
LONDON AS AN INTERNATIONAL CITY
ZG: How do you feel London stacks internationally? For me, London post 2012 Olympics was number 1. You felt it all the way up to the Brexit referendum. Where do we stand today?
GK: I think we're still right up there as one of the leading global cities. 9 million people. It's the administrative, business, cultural, and tech centre of the country. The US is far more distributed. Many take it for granted – but English law is the most trusted legal system in the world. A lot of people want business transactions to be governed by English law – it's a judiciary that's independent and fair.
ZG: Agreed.
GK:
"And the Elizabeth Line is the most fantastic piece of infrastructure. Why are people not more excited by it?!"
It's beautifully done. Everything about it is fantastic.
ZG: I know! We have this English mentality where everyone is fixated on how long it took and how much it cost. But the number of people who can now reach central London in under 30 minutes is absolutely bonkers. It's profound. A huge advantage to investors to keep buying around Crossrail.
ADVICE TO YOUNGER GENERATION
ZG: One last thing. What's your advice to the younger generation entering real estate?
GK: There's so many different parts to real estate – you can find a part that suits your character. You've got to work hard. There's not many people I know who have been hugely successful in life and not worked hard. The odd genius – not many!
ZG: Yep. You can get lucky sometimes, but you can't plan for that. As modern as I am, I really like tangible things – a bit of texture to my cloth. I felt then, as I do now, there's still the greatest opportunity for character and characters, fun and great stories in the real estate industry.
GK: It covers everything, and there's something for everyone. What you put into something is what you get out. That awful cliché, it's so true.
Featured Stories & Insights
Let's Talk
Got a question? Use the form to get in touch.