Inside Great Suffolk Yard: Southwark's Hidden Workplace Gem
Welcome to Great Suffolk Yard, where the best of modern design meets the industrial charm, character, and personality of Southwark.
Completed in Q4 2022, this impressive 65,000 sq ft creative workspace seamlessly combines the old and the new. Three 19th-century warehouse-style buildings have been restored and extended giving rise to this modern working community.  A cobbled courtyard at the heart of the scheme unites the buildings, providing a communal hub.
Occupants benefit from a host of amenity including multiple balconies, four roof terraces, excellent end-of-journey facilities with 100 cycle spaces, showers and lockers.
TSP has managed Great Suffolk Yard from PC, setting up all new building services, managing day-to-day operations, and overseeing the delivery of a best-in-class experience for the new tenants.
Our mission is to create a culture of continuous improvement: we always aim to leave assets in a better state than we found them. With a tailored Asset Strategy in place, we are committed to enhancing Great Suffolk Yard every year, aligning with our client's long-term goals and creating a clear roadmap to success.
We met with the Front of House at Great Suffolk Yard, Missy, as well as one of the newest tenants, engineering consultancy Hydrock, to get the real scoop on what makes a thriving workplace today.
Q&A With Missy, Front Of House @ Great Suffolk Yard
What does a typical day working Front of House at GSY look like?
A big part is welcoming tenants and their guests throughout the day – being a friendly face on arrival, and making sure people always know where they're going.
I also oversee any facilities queries and requests from tenants, distribute packages and post, as well as coordinate with contractors to resolve any issues as efficiently as possible.
How do you create a welcoming environment for tenants?
Make sure they're greeted with a smile! And always being approachable. Little things like this make a big difference.
Your favourite thing about the building?
My concrete desk. It took a while to get used to it – but it looks amazing and it's a great conversation starter!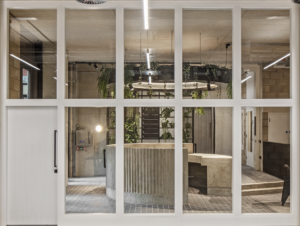 Q&A With Antonia, Office Manager @ Hydrock , Great Suffolk Yard Tenant
What attracted Hydrock to Great Suffolk Yard?
Hydrock have worked in the area for 4 years now, but we outgrew our previous office. GSY is a stone's throw from London Bridge but just far enough to provide a calm, quiet working environment. The space our floor offers us has already been a great benefit to the team.
What are you most looking forward to about your new company home?
Having an environment which our team can thrive in delivering their work – as well as getting to know each other better and building camaraderie. For us, it was important to have space to socialise outside the confines of the formal office setting – it feeds motivation. This is now possible with the amount of space the communal areas offer.
Your favourite thing about the building?
It is spacious, secure and, the staff running the building have helped us settle in by being friendly and accommodating. The views to the city aren't too bad either!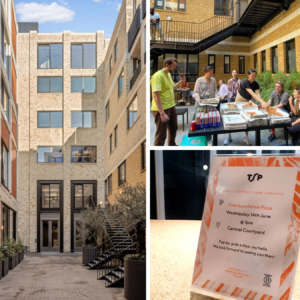 Alan Rowell, Director at Hydrock, highlights the human-centric design of their new office space, saying:
"

The new office has been thoughtfully designed to reflect the needs of our team. It will be a comfortable place where they'll be able to invite clients and industry colleagues. "
Featured Stories & Insights
Let's Talk
Got a question? Use the form to get in touch.