Landlords: "Zoom out, take expert advice, listen to your gut"
An award-winning, modern real estate practice specialising in investment, development, leasing & occupier agency services across London and the UK market – Albany is a TSP Partner who brings a wealth of real-world expertise to the table.
We spoke to the three Partners – Brad Sharp, Sam Arghebant, Joshua Milan – to glean an exclusive insight into their observations of the current market, plus their projections for 27 years' time…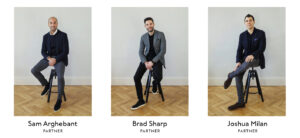 What excites you most about the current property market? Where are you seeing greatest opportunities?
We launched Albany in January 2023, off the back of a very challenging 2022 and were under no illusions about the state of the property market. A huge amount of uncertainty was emanating, costs were rising exponentially, countless opinions predicting apocalyptic scenarios for the industry and many investors & landlords were adopting firefighting or holding pattern positions.
Whilst this was extremely challenging, a number of fantastic businesses in our industry (some of the most successful in fact), were formed during the toughest of markets and this really excited us.
Fast-forward to today and the market feels like it's bubbling again with far more activity. Of course, we're not back to pre-pandemic transaction levels but, having concluded several notable deals this year, against the backdrop of a very uncertain marketplace, as a new business, we're proud of this.
The "doomsday" predictions have subsided and the outlook from our clients (and the market in general) certainly feels more positive.  The rate of inflation (still higher than ideal) is slowing, interest rates appear to be peaking and the "WFH" fad looks like it's over.
Whisper it quietly, but we may be on the cusp of an upward swing.
As a multi-disciplined agency, working across a variety of service lines, sectors, industries and geographies we work with many clients either occupying space or creating space for a wide range of uses and users.
Where we've seen the greatest opportunities has been operational real-estate.
Alternative uses such as open storage, warehousing, co-living, student & BTR have probably been the winners recently, however, we think people should keep an eye on the office market… we're starting to see some great opportunities there too!
What words of wisdom do you have for landlords uncertain about their next investment move?
Zoom out, take expert advice, and listen to your gut.
Top 3 most frequent requests that you hear from occupiers today?
Fundamentally, each occupational requirement differs and there's not a "one-size fits all" approach that landlords can take… those days are long gone. However, landlords should be aware that at least one or two of the three requests below feature in every new requirement we work on:
Quality –
It could be the fit out, the building, customer experience, amenity offering (maybe all the above) but, it comes as no surprise that Grade A office space, particularly centrally located, has remained resilient.
Un-refurbished, un-fitted and un-loved space continues to struggle.
Occupiers are increasingly viewing their premises, not just as "a place to work" but, a place to build culture and bring people together. An environment to spark creativity, innovation & collaboration.
With the rise of serviced, managed and plug & play space, the "hotelisation" of offices will continue and landlords need to take note.
Environmental –
More so than ever, our clients are looking at how their businesses adhere to and operate within the three pillars of ESG.
As real estate specialists, our discussions centre around the environmental aspects. But this isn't just about saving on the bills – businesses, their employees, their visitors, and customers are very conscious of corporate and social responsibility and therefore sustainable, carbon reducing, energy efficient workspaces are highly sort after and typically feature at the forefront of occupier requirements.
Flexibility –
Shorter lease lengths, options for expansion or contraction of space, adaptable furniture – occupiers want optionality. With the days of "let and forget" now a thing of the past, this again signals the rise of the "hotelisation" of office space.
Can you share an example of a creative or unexpected use of commercial space you've encountered?
Fortunately, we work with some amazing clients, across a variety of industries and we're lucky to visit some fantastic spaces.
Our recent acquisition of c.20k sq. ft. at The Ragged School in Vine Hill, EC1 is going to feature some of the most incredible use of space / technology we've seen… wish we could say more but, we can't right now!
An active client of ours has created a new brand and concept for "co-warehousing".
They own and subsequently operate the real estate, creating a space catering to eCommerce businesses, supporting them with everything from an office space to warehousing, to marketing / product photography studios, to storage, distribution & delivery all under one roof.
In 2050, what will the office look like?
Whatever our Vision Goggles want it to look like!
Whilst said in jest, with the continual advancements in technology, there's no doubt office spaces will be inconceivably advanced in 2050.
Virtual Reality will likely be the norm, used to facilitate collaboration, training and meetings and artificial intelligence & integrated technology will enable workspaces to be personalised to individual preferences.
Whilst we can't really predict what an office will look like in 27 years' time…
We're certainly looking forward to hosting a 10-person virtual meeting on the white sandy beach of Barbados, with clients based in Hong Kong, the US, and London at the same time.
At the end of the meeting, we can then nip down to Pret a Manger on Great Portland Street to grab a flat white… although, maybe we'll send the Albany robot instead.
Featured Stories & Insights
Let's Talk
Got a question? Use the form to get in touch.