Our B Corp Impact Report 2023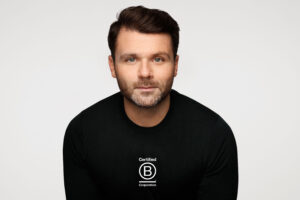 A Word From Our CEO, Zac Goodman
When we received our B Corp accreditation in 2021, I was ambivalent. On the one hand I felt a palpable sense of pride that TSP had qualified, we'd made it and been recognised for our culture and our ambition. However, the process had also been humbling, and eye opening; we'd only just made it – and there was a lot more that could be done.
The great joy of running a business is the constant journey of discovery that you must accept as par. Our journey is made all the better by having an amazing team that is engaged with our sustainable goals and pushes us to do more. Our B Corp accreditation is not a hurdle, but a guard rail. It's the bumpers in a bowling alley – you want to throw the ball straight down the centre line, but you are comforted by the fact that if you swerve off something will bounce you back to the middle.
Real estate is a complex game with multiple stakeholders, financial constraints, and technological barriers. At the same time, it is the biggest asset class in the world, and we have made it our job to leave assets in a better condition than where we found them.
This is the golden strand of sustainability that runs through our business, our culture – ultimately our soul.
We have achieved a great deal over the last year, bringing more and more buildings up to higher and higher standards. We have educated our team, and our clients and supply chain.
We have set ourselves lofty goals to bring our entire managed portfolio to EPC B, which would align our business with the staged process of achieving Net Zero by 2050. As well as the arbitrary government standards we have actively engaged within the B Corp community and have also reached deeper into the communities that surround and thrive off the buildings we own and manage.
Each year I become more aware that there is always more to do. This year is no different.
For TSP, being a B Corp is about imagining what you could be and could do. It's our bumper lane in the bowling alley, our goal is the strike without the need to kiss the sides, but it's nice to know that the guard rail is there!
Z.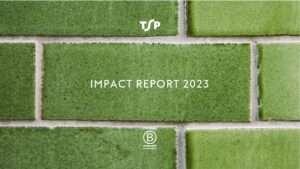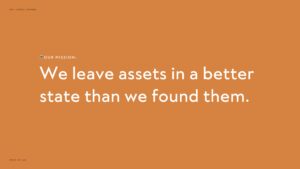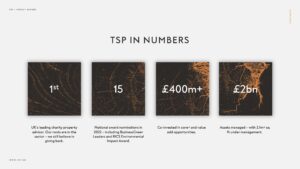 Featured Stories & Insights
Let's Talk
Got a question? Use the form to get in touch.