Project Update – Ironmonger – 03
Mid-September – we are now in the latter stages of installation. Of Rethroning this Great Dame of an Edwardian building.
In this episode, we zoom in, taking a closer look at the bespoke production elements which will form this workplace reimagined.
We shine a spotlight on the exceptionally skilled artisans engaged to craft the finer features of 60 Ironmonger. From earthy terracotta tiles and homely hand-spun wool rugs – to playful furniture made from waste plasterboard and sliding bio-material panels.
These bespoke features benefit from both functionality and allure. The design shows that this building is not templated. The meticulous, sustainable craftmanship emphasises the importance of attention to detail when shaping a modern office.
Brought together in the context of the wider scheme, these finer elements will forge an office space that people will – quite naturally – be drawn to use.
The lower ground unit floor will be made from approximately 18,480 hand-installed terracotta tiles, sourced from Artisans of Devizes. This heritage British brand, rooted in the market town of Devizes, Wiltshire, boasts a rich tradition of stone mastery passed down generations.
The natural stone is rustic and durable – ideal for high traffic areas – creating a warm, welcoming earthiness. Reminiscent of Mediterranean holidays.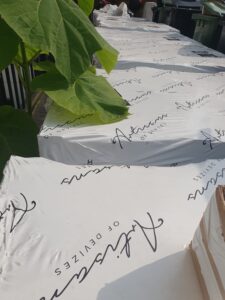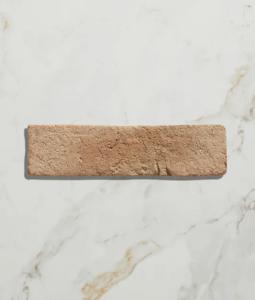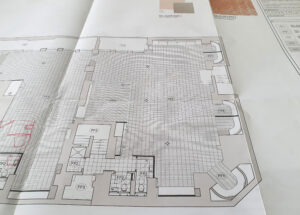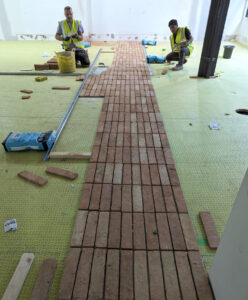 The first US and Australian rug maker to achieve B Corp status, Armadillo & Co weave rugs that lie lightly on the earth.
They adhere to the philosophy of "Quiet Living", embracing principles of slow design. Evolving from the wider Slow Movement, founded in 1986, Armadillo advocate for a shift towards a gentler pace of life that is kinder to individuals, communities, and environment.
Their rugs are crafted from carefully sourced natural materials, 100% handmade, and lavishly soft to touch. Adding a layer of comfort, warmth and personality to the space.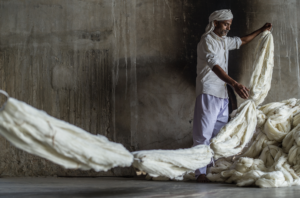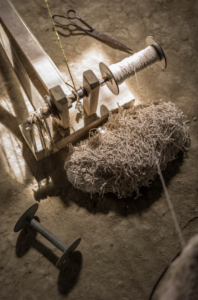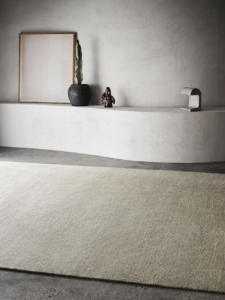 Sculptural Furniture, by Byron Clark
The visitor seating area of 60 Ironmonger will feature a sculptural table and chairs formed of waste plasterboard.
Completing his MA in Material Futures at University of the Arts London, Byron Clark is a multi-disciplinary maker pushing the limits of interior design.
Furniture today often feels rigid and uninspired: Clark puts playfulness at the fore to create unexpected, spontaneous shapes. He works predominantly with waste plasterboard – a material which the UK generates around 1 million tonnes of refuse per year.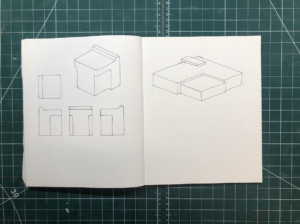 Bespoke Collaborative Table, by Common Design
Organic-shaped countertops adjacent to the F&B areas will provide break-out space for collaborative work and informal meetings.
The table and chairs are hand-carved by Common Design, an East London studio founded in 2021 by Conor Hacon. His collection is named Invitations – inspired by the idea of collectivity and kinship with the pieces helping to foster connection.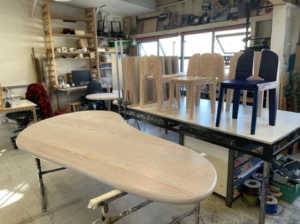 Established in 2018 in Copenhagen, Natural Material Studio create repurposed materials for a wide-range of projects. These span cutlery for a seafood restaurant made from old seashells to reusable biomaterial gift wrap for Calvin Klein.
All of their materials are compostable and biodegradable. "You can give it to your chickens," says founder Bonnie Hvillum. "My chickens eat it; I can't leave it outside!"
In 60 Ironmonger, we will be using their algae-based panels for meeting room sliding screens. These will provide privacy and ambience whilst allowing light to glow through.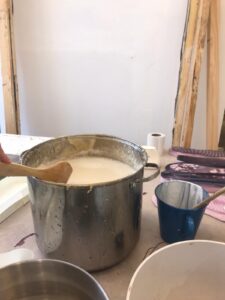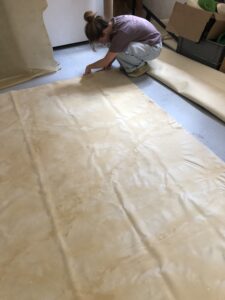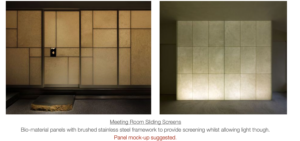 With each element painstakingly selected for its functionality, sustainability, and aesthetic appeal – stay tuned for the unveiling of the complete workspace.
Featured Stories & Insights
Let's Talk
Got a question? Use the form to get in touch.