Project Update – Ironmonger – 02
Back on site at our newest office development, 60 Ironmonger, and execution stage is underway. We are now translating mood boards, technical drawings, and cost plans into bricks and mortar: the next generation of workspace.
Nestled in a leafy pocket, minutes from Old Street, the Edwardian warehouse provides 9,519 sq. ft. of prime city fringe commercial space with outdoor terraces. It was formerly the glamorous domain of the Christian Louboutin Headquarters.
Our objective for Ironmonger is to craft an exceptional environment that people leave feeling inspired and energised at the end of the day. Achieving this, people will naturally want to use the space, and business will prosper.
"I love restoring assets, it's a mixture of the challenge, the nostalgia and the ingenuity. It also has the happy outcome of being a very sustainable business model"

– ZAC GOODMAN, CEO, TSP
To help us push the envelope of workplace design, we have engaged House of Grey – the world's first Circular Salutogenic Design studio. So, what does salutogenic design mean?
Investing in people
Simply put, salutogenic design aims to build structures that make people healthier, happier, and more productive.
It marks a shift from the purely technical aspects of sustainability, such as carbon footprint, water and energy efficiency. Instead, it asks whether a space causes good health. Does it allow people to thrive mentally, socially and physically? It is the ultimate investment in people in an architectural sense.
To bring out the best of employees we must create an environment that stimulates, inspires and focuses on the wellbeing of staff in equal measure.
This can be achieved through incorporating biophilic design with natural materials like wood, stone and indoor planting. Harvard research shows green workspaces correlate to a +38% improvement in focus and +73% improvement in crisis management.
Implementing well-designed lighting solutions that consider both natural and artificial light sources is also crucial for salutogenic design. Strategically placed windows and skylights enhance mood and circadian rhythms, while adjustable task lighting reduces eye strain.
Creating spaces for relaxation and rejuvenation – comfortable lounges, meditation rooms, outdoor terraces – is also key. The overall layout and design should foster social interaction and collaboration, with open-plan workspaces and shared amenities – coupled with quiet zones for focused work.
The 8 pillars of a holistic workplace
Salutogenic design incorporates the 8 pillars of a holistic workplace:
Indoor Air Quality – What is in the air I'm breathing?
Natural Light – Is the lighting right for my task?
Thermal Comfort – How cold am I?
Movement – Am I encouraged to stay active throughout the day?
Community – Do I feel a sense of belonging and connection with my team?
General Layout – Does the overall workspace design promote efficiency and productivity?
"Employees who are satisfied with their work environments are 16% more productive, 18% more likely to stay, and 30% more attracted to their company over competitors."

– GARTNER RESEARCH
Design language
At 60 Ironmonger, our design language focuses on natural materials, earthy palettes and reducing visual noise throughout. It will provide a hotel, spa-like and non-corporate feel – set apart from other workspaces – with a curated and artful interior. Tranquil spaces will flow effortlessly and transition seamlessly from day to evening use.
The vision is to create a workplace that captures the ambience of home, while providing solutions to the disadvantages of the home office. It recognises and embraces people's ideal lifestyle.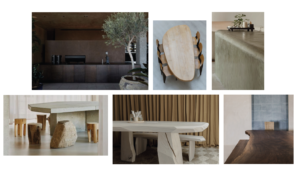 House of Grey mood boards: Collaborative tables and private nooks for quiet working

"Over the years, we have noticed many people talk about when their next holiday is and the need to get away from their day-to-day lives. It is this notion that drives us to curate spaces that truly nurture inhabitants"

– LOUISA GREY, FOUNDER, HOUSE OF GREY
At TSP, our mission is to create harmony between the built and the environment, by giving old, unloved buildings a second lease of life. And at the same time, building exceptional working environments. 60 Ironmonger will be no exception.
Take a sneak peek behind the scenes this month👇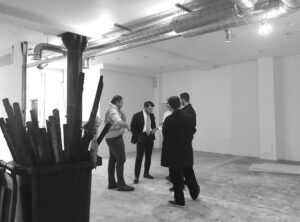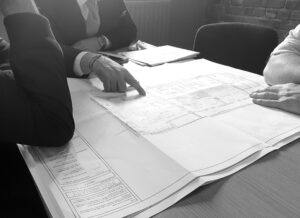 Reviewing technical drawings and final amendments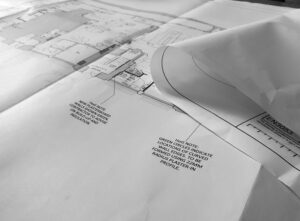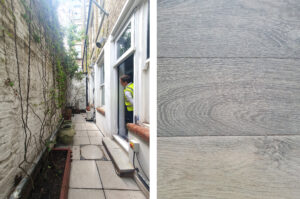 One of the outdoor terraces to be landscaped; chosen wood floor sample, to be used in conjunction with feature stone tiling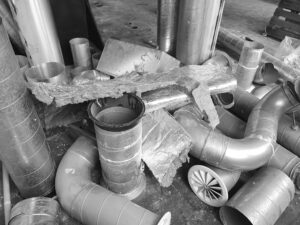 Ductwork simplified throughout to reduce visual noise
OUR PROJECT PARTNERS:
House of Grey Ltd – Lead Design
Peldon Rose – Contractor
Compton – Leasing & Sales
Michael Byrne – Building Surveyors
Mathew Byway – Sustainability
Switched On Space – Prop Tech
FTI Consulting – Public Relations
VIEW PROJECT PROGRESS:
Featured Stories & Insights
Let's Talk
Got a question? Use the form to get in touch.