Rockbourne Unplugged: A Tale of Leadership, Legacy, & Achieving Real Estate Excellence
Rockbourne is a business focused on Leadership & Future Leadership Search for real estate owners, funds, investors and developers.
But beyond corporate ambitions lies a tale rooted in a village, a family's military legacy, and an unwavering commitment to being the best.
In this Partner interview series, we speak with Matthew Watts, Founder & Managing Director of Rockbourne. Discover Matthew's secrets to hiring top talent, 3 key lessons gleaned from interviewing 50 property leaders, plus his industry projections for 27 years' time.


What is Rockbourne and what is its mission?
Rockbourne is dedicated to Leadership and Future Leadership Search for Real Estate Owners, Funds, Investors, and Developers.
The story behind the Rockbourne name lies in the village where my paternal grandfather lived, and he along with my uncle, father and great-grandfather all served in the British Army.
The Army's ethos of "Be The Best" points to the pursuit of continual improvement, innovation, and growth. And as such, our mission is encapsulated in the mantra: "Hire the best for the best. Be the best."
This quote from Stephen A. Schwarzman – private equity kingpin and Blackstone CEO – hopefully sums it up:
"Tens always make it rain; a firm full of nines is a winning firm; eights just sort of do stuff that you tell them to do. As for sevens and below…I don't know what they are. Because we don't tolerate them."
What is the secret to hiring the best talent in real estate?
Hiring top talent requires a strategic approach – it's not straightforward. Begin by meticulously planning what achievements and qualities a potential hire should demonstrate in a 12-18-24-36+ month time frame, to ensure a clear definition of what success looks like.
Reflect on your employer value proposition: why would high-performing individuals choose to join your firm?
For those considering external assistance, partner with a single trusted firm after thoroughly evaluating their process and track record.
A valuable partner should offer a transparent, efficient process, guiding you through identification, marketing, assessment, interviews, and onboarding. Executed correctly, this process is not only effective – but enjoyable!
Why did you decide to launch the People Property Place Podcast?
The People Property Place Podcast emerged from the recognition that the real estate industry – while becoming more open – is simultaneously growing more fragmented.
Engaging in conversations with remarkable real estate leaders sparked the idea of capturing these insights for broader benefit.
The podcast serves as a knowledge repository for Rockbourne team members and future hires, providing a valuable asset for learning about our industry.
It also acts as a tool to showcase a company or opportunity to top talent. The decision to launch the podcast was driven by a dual purpose—empowering team members with a learning resource and enhancing our client's ability to attract top talent by providing direct insights about their early career moves, background, opinions and business.
Having interviewed nearly 50 property leaders on your podcast – what are 3 key lessons that stand out?
First – the sector offers so many diverse career paths. Competence is the key to success. Being successful is not predicated on having a family member in the industry.
Second –
"Network, network, network". Networking is a constant theme amongst the leaders I talk to, for career growth and collaboration. Also, the idea of paying it forward without immediate expectations.
Take note: one day your relationships will pay off.
Third – in the last 5-10 years, the shift in perception of alternative asset classes has created really exciting career prospects. Particularly in micro niches, such as self-storage, purpose-built student accommodation and healthcare.
In 2050, what will real estate look like?
While I may not be the ultimate authority…
The timeless nature of real estate – requiring care and attention to a physical product – remains a constant.
The dynamics of ownership, financing, and utilisation will evolve, influenced by advancements in AI and technology. The positive impact of these innovations on the built environment will reshape the industry – in ways we can't yet even imagine.
But, what's certain, is that with every technological leap, new job opportunities emerge. I feel the industry is in such an exciting phase – there are diverse, evolving career prospects for anyone and everyone.
Especially for those wanting to go far!
—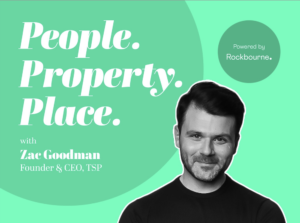 Featured Stories & Insights
Let's Talk
Got a question? Use the form to get in touch.