The 2 Most Important Charts in Office Leasing & How to Respond to Them
They show key secular trends that landlords & their advisers must adapt to…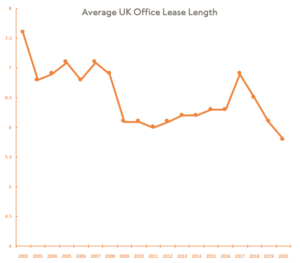 1.    Office Lease Lengths Are Getting Shorter
We knew this before the pandemic. Now leases are even shorter. In 2019, the average lease length was just over 6 years. During the pandemic, real-time metrics showed average lease lengths as low as 30 months (not including coworking).
The chart is trending downwards because of coworking, managed space, Cat A+, WFH, hybrid, and – most important – uncertainty.
When lease events are more frequent, there is more renegotiation, and your space will be on the market more often.
So buildings must always attract new customers, or even better, keep existing customers within their ecosystem at renewal, at higher rents…
How?
• Do the basics better than anyone
• Build deeper relationships with customers (meet them, email, market to them)
• Create an irresistible offer
• Invest in your marketing strategy
Now chart 2…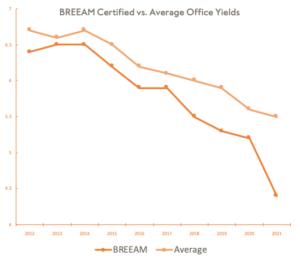 2.    Sustainable Buildings Are Worth More
Careful with this one – it's not conclusive.
There is an emerging premium for green assets – investors will pay more for offices with higher BREEAM ratings, shown by the yield spread in Europe.
Knight Frank also found that BREEAM outstanding buildings achieved a 12.3% rental premium.
But new buildings are worth more AND they have the best BREEAM ratings. We don't yet know which is more important – the data will be conclusive in a few years.
It is logical that investors & occupiers pay more for green buildings. The focus on CSR, ESG, the climate crisis, MEES regulations, and energy price inflation all feed this chart.
So try to make your building as green as possible. Then market those features:
• The 'difficult' & expensive things (retrofitting, increasing the EPC score)
• The 'easier' stuff (waste management, offsetting, community engagement, utility monitoring, etc)
In summary…
Monitor and adapt to these trends.
You'll lease space faster, at a higher rent, and your buildings will be worth more.
Featured Stories & Insights
Let's Talk
Got a question? Use the form to get in touch.