The Rise of Hotelisation: How This Trend Will Enhance Your Office Investment
A new trend has emerged in the world of commercial real estate: hotelisation. It marks the next stage in the evolution of the office, with the tech industry being an early driver of the trend.
Well-travelled CEOs would globetrot to pitch and raise whilst working from some of the world's most beautiful hotel lobbies – raising the bar for the typical working day.
This new paradigm requires a fundamentally different approach to leasing and asset management. But what exactly does hotelisation mean?
In short, it is the growing popularity of transforming traditional office spaces into dynamic, flexible environments that rival luxurious hotels. The focus is on adding a premium service level. Because today's tenants will pay more for quality space which provides a sense of pride, exclusivity, and a members' club feel.
This premium is achieved through creating a consistent, standardised experience with an added taste of luxury away from the home. This could be through a stylish reception with a concierge to greet you on arrival, an inhouse coffee shop or rooftop bar, leisure offerings including a gym, stretch studio or members' lounge, and cultural bolt-ons such as gallery space.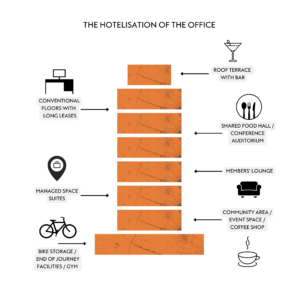 So, how can this trend enhance your office investment?
Increased Flexibility & Adaptability
Bid farewell to the era of long-term leases, with a single tenant occupying space for decades.
Hotelisation opens doors to shorter lease terms and the ability to cater to multiple tenants simultaneously. By offering flexible spaces and services, office buildings can accommodate a variety of businesses, from start-ups, SMEs, to established corporations.
It allows you to quickly adapt to market demands. You can easily reconfigure and customise space to meet the evolving needs of businesses, whether it's scaling up or down, providing collaborative environments, or integrating the latest technology.
This maximises occupancy and makes your office investment more agile in a competitive market.
Expanded Revenue Streams
In addition to traditional leasing arrangements, transformed space can offer a range of supplementary services – unleashing diversified revenue streams.
This includes meeting room bookings, virtual office solutions, and on-demand administrative support. Spaces can be utilised for hosting events, workshops, and networking sessions, generating additional income. These can be rented out on a daily or even hourly basis – maximising asset utilisation.
By diversifying revenue streams, hotelisation provides a more stable and profitable investment opportunity.
Enhanced Occupant Satisfaction
Hotelisation enhances the overall experience and satisfaction for the end user. These transformed spaces are meticulously designed to prioritise comfort, collaboration, and productivity. In turn, this helps attract and retain high-quality tenants. It also fosters a vibrant community within the building.
Promotes Innovation
By incorporating flexible and adaptable spaces, these offices accommodate various working styles, catalysing collaboration and innovation. With the rise of remote work and the gig economy, many companies are seeking spaces that support agile working practices.
Business owners today are looking for a greater return on their workspace fit-out – rather than just a functional environment, the office must contribute to tangible results including staff wellbeing, attraction, retention and productivity.
Hotelisation meets this demand by providing shared workspaces, conference rooms, and event spaces that can be easily customised to meet different needs and encourage the exchange of ideas.
Sustainable Upgrade
Finally, hotelisation aligns with the growing demand for sustainable and energy efficient buildings.
Upgrading the space creates the opportunity for implementing sustainable design features, such as energy-efficient lighting, water-saving fixtures, and green spaces.
By incorporating these elements, offices reduce their environmental footprint and also attract environmentally conscious tenants. This enhances the marketability and long-term value of your office investment.
In Summary
Revolutionising the way workspaces are designed, leased and utilised – hotelisation is poised to become the driving force behind the success of tomorrow's commercial real estate. It also presents a compelling opportunity for office investors.
It offers increased asset adaptability and resilience, diversified revenue streams, increased tenant retention, and aligns with sustainability goals.
The primary customer is now the employee or end-user – rather than the Exec or business owner. This shift requires a more hands-on and management intensive approach, but in turn, will forge stronger relationships with occupiers, command higher rents, and build future-proof portfolios.
Featured Stories & Insights
Let's Talk
Got a question? Use the form to get in touch.