Interview: Working for a B Corp
To makes business a force for good. This is the business of B Corp. 
In 2021, TSP were extremely proud to become one of the first property companies globally to achieve B Corp accreditation. You can read more about our green-paved journey here.
To celebrate B Corp Month, we interviewed Mia, from our Marketing department, to find out how working for a B Corp adds value to employees. 

Mia Brown, Marketing Assistant & Copywriter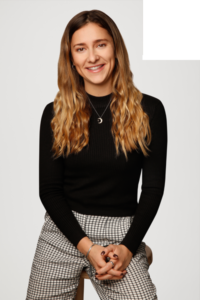 1. Tell us about your role at TSP
I head up TSP's social channels and communications. This covers everything from newsletters, articles, charity content, award applications, helping with pitch decks and eBooks. I also run our side channel, GreenBricks, promoting some of the best of sustainable buildings. Most importantly, I'm the In-house Horticulturalist, tasked with looking after our office plants and blossoming biophilia.
2. What difference does working for a B Corp make for you?
All the difference. This time last year I was working in a completely different job – which although was super interesting – didn't consider the environment at all. Ultimately, this left me feeling unsatisfied. 
I knew about B Corps and their planet-positive work before joining TSP – and was itching to be involved. Serendipitously, the week I joined TSP was also the week we publicly announced our B Corp feat. Although I'd never previously considered working in property, it made me realise that the sector isn't the most important thing. What matters for me is working for a greater movement for change – and B Corp signals this.
3. Why become a B Corp? 
Everyone knows what sustainability is – but there's a general feeling of not knowing how to achieve it. B Corp gives businesses a rigorous framework to work towards and makes you consider things you never normally would. It demonstrates your business has ethical bones.
As you have to renew your accreditation every 3 years, it's a continuous learning process and opportunity to hone company values. There's also the added bonus of feeling part of 'the club' with many network-building perks. 
4. What plans does TSP have to improve their B Impact Score even further?
Becoming a B Corp made us realise how much more we could be doing! Especially in the property sector which accounts for 40% of global emissions. A big part of future improvement will be looking at how we can reduce our indirect Scope 3 emissions, which means assessing things such as our suppliers and employee commuting.  Also working with other B Corps is a great way to boost points, and we've got some exciting partnerships in the pipeline..!
5. What do you think the UK would look like if all businesses made a legal commitment to the B Corp model?
Today, it can feel like you're either part of the problem or part of the solution. If businesses, environment, and society's needs were fully integrated this wouldn't be the case – and we'd all benefit. In an ideal future, I see B Corp certification as redundant because it becomes the standard, humane way of doing business.