TSP x Wren: The Unsung Heroes of Facilities Management
"A lot of what Wren does largely goes unnoticed. Keeping sites operating in a safe and complaint manner is just what we do."
Leading building services & environmental engineering company, Wren Environmental, have just celebrated their 32nd year trading – mobilising 5 new contracts and 3 renewals in January. They're also one of TSP's long-standing partners.
We sat down with Mark Simms, Business Development Manager at Wren, to learn how the race to EPC B has impacted client requests and what they think buildings will look like in 2050.
–
Wren was founded in 1991 – What remains the same in the business? What has been the greatest change?
Paul Hurrell the co-founder and MD remains the driving force of the business. Plus, we still have the great staff and ethos to deliver a customer-focused service of excellence.
In 2018, Alan Neely, co-founder, wanted to retire from the business. To facilitate this and ensure Wrens financial stability, the SAUTER Group acquired business shares. This allowed us to continue to invest in Wren and develop more diverse business capability for the future of smart buildings and energy efficiencies.
What core services do Wren provide?
Wren deliver hard FM engineering and services. We have the in-house expertise and engineering teams to deliver all aspects of Electrical, Mechanical, Combustion and Air Conditioning. We also support customers with specialist supply partner management for works such as Fire alarms & Life Safety systems, water quality, lifts and power generation.
Another key element of our client offering is small works and projects. We have a separate team able to support clients with all aspects of plant and equipment replacements, upgrades and fit out works.
What impact have MEES regulations and the race to EPC B had on your client requests? Any trends you are seeing?
We're seeing an increase in clients looking to upgrade lighting – along with enquiries for PV panels, boiler replacements, air source heat pumps, and other energy saving initiatives to improve the building's EPC rating.
We're also often asked to undertake energy assessments to check whether the EPC ratings for properties are correct. People need to be sure!
In 2050, what will our buildings look like?
We believe commercial offices will continue to develop into the differentiator when staff are considering employment opportunities. Many of our clients have or are looking to change the look and feel of their demise.
They are shifting away from the traditional workspace into more collaborative spaces. The developers are also playing their part by integrating more mixed-use space into new designs or redevelopments – commercial, residential alongside retail and lifestyle space.
Buildings are getting smarter. It won't be long before you will be able to book your desk / workspace on your way to the office – setting your desired temperature and lighting level, all while reserving your parking space. As well as sending a message to inform the cleaners the workspace does or does not require cleaning.
Case Study: Wren @ Little London, SE1
Little London is an iconic building in SE1 – a former industrial space which TSP transformed into a stunning workspace. The addition of its own in-house barista and coffee shop, Lantern Coffee, adds to the whole lifestyle office and amenity vibe, adding joy to the Little London experience.
A lot of what Wren do at Little London and the other sites we service for TSP largely goes unnoticed. Keeping the sites operating in a safe and complaint manner is just what we do.
So, it was a particularly rewarding project when we saw an opportunity to upgrade the carpark lighting at Little London to fully-LED. This saved 28 watts of energy per light fitting, per hour! We also undertook fabric upgrades within the shower areas.
Initiatives such as these improved sustainability and durability, reduced energy usage and cost – all while maintaining the site aesthetic.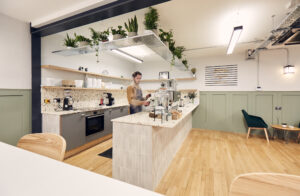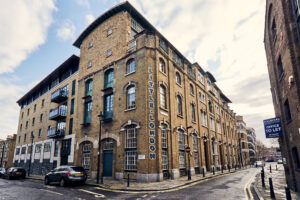 Featured Stories & Insights
Let's Talk
Got a question? Use the form to get in touch.